Bank On Yourself and Take Control of Your Finances
What is the Bank On Yourself Method?
Bank On Yourself uses a little-known version of an asset that has increased in value during every single market crash and in every period of economic boom and bust for more than 160 years – dividend-paying whole life insurance.
It provides, at minimum, guaranteed growth in cash value

It provides "Living Benefits"

It can provide tax-free growth and a tax-free retirement income, under current tax law

The Bank On Yourself method allows you to avoid the Wall Street Casino, with more consistent and certain results!

This is a time-tested and proven approach to wealth accumulation; it has been the cornerstone of financial stability for well over a century!

And yes, there is also a death benefit!
This method requires a dividend-paying whole life insurance policy with some features added on to it that few financial advisors understand. A large portion of your premium goes into "riders" (or options) that allow your policy's cash value to grow significantly faster than a traditional whole life policy.
You might hear the "Bank On Yourself" method referred to as the "770 Account", "Become Your Own Banker", "Infinite Banking", "Invisible Bank Account", "The President's Account" …and more. It is clearly enjoying growing popularity!
There are only 200 Bank On Yourself authorized advisors in the U.S. and Canada. These advisors have gone through the training required to ensure that the policies they create, and provide, are the best for maximizing the power of the Bank On Yourself concept. These advisors know which insurance companies (and products) will work best for the desired result. These policies must be structured properly to maximize growth and retain tax advantages.
And VOLATILITY… What's the problem?
Well, VOLATILITY is not your friend!
Volatility can be a devastating factor in your wealth accumulation, and worse in your "distribution phase", also known as retirement.
Contact
lnhimel@himelfinancial.com
(914) 714-2452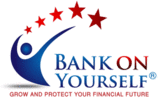 Bank on Yourself
Tax-Free Income Upon Your Retirement
Yes, with the (currently) conventional planning, that 401(k) or IRA will result in fully taxable income in your retirement. That old saw "your taxes will be lower..." might not hold. After all, will bridges, tunnels, school spending be required in 20, 30, or 40 years? Do any (government) services come free? Also, what are your future income expectations? We can help. Call us today to get started on your income plan.

College Funding, Investment Stability, Guaranteed Growth, and Flexibility
These functions or attributes are built-in to the Bank On Yourself approach.

Flexibility of access and use of funds, while you're alive. Just think: no loan applications for that big purchase...Bank On Yourself!

These policies create a stabilizing and growth-enhancing part of the financial plan (also known as decreasing volatility's negative results).
Life Insurance
Allow Us to Help You Stay Protected for a Lifetime!
If you're looking to buy a beneficial life insurance plan that can help you protect yourself and your family, turn to the professionals at Himel Financial. We can help you get a Whole Life insurance plan, a hybrid insurance plan, Term, and a Long-Term Care plan as well. Contact us today for further details on this.
A Life Insurance Plan Will Help You
Protect your family

Protect your heirs

Leave a legacy

Provide additional flexibility for you during your life

Long-Term Care
Choose a Plan for You and Your Family
A Long-Term Care insurance (LTCi) plan helps in making sure you don't outlive your money, and that you don't exhaust your money for the care you may need in your future. There is a direct relationship to LTCi and retirement planning that we can help you address. Give us a call today for further details.
Some Important Features of Our Long-Term Care Insurance
Traditional policies as well as hybrids

Provides independence such as "stay at home"

Protects your retirement and your family
Disability Income Insurance
Let Us Help You Protect Your Income and Your Most Valuable Assets
Many of us will have some sort of disability that'll prevent us from working, before the age of 65. It might prove to be short-term or long-term. Call us today for further details on this.
Benefits of Disability Income Insurance
Your most valuable asset is your ability to work and provide an income. If you lose that ability, this will address your continued need for income.
Let's Chat.
Our 40+ years of experience in the world of finance has provided some insights into pitfalls.
If you're uncomfortable with the current conventional wisdom, and would like to know more, let's talk. There's much more. It's your future...